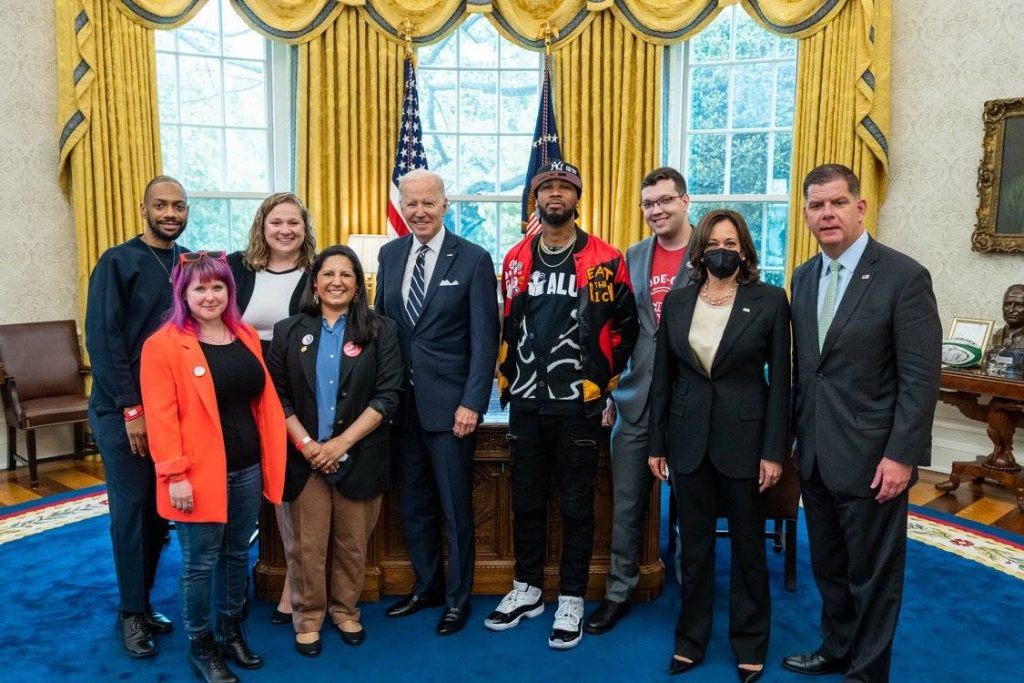 Earlier today, I met with President Biden, Vice President Harris, and Secretary of Labor Walsh at the White House to talk about the United Paizo Workers and the ongoing unionization efforts across all industries.
I'm gonna say that sentence so many times over the next few days and at no point will it sink in. Here are some news links if you want to read about the event: Polygon || New York Times || CWA Press Release
But those are boring, so I'm taking over the UPW blog here to talk a little bit about my experience in DC!  First of all, I was incredibly honored to be asked by the Communications Workers of America to represent them in this meeting with such powerful people. It's a testament not only to my skills, but to the incredible work the UPW has done. I was so proud to be able to represent my coworkers, our freelancers who stand with us in solidarity, and the unrivaled Paizo community.
Regardless of your political affiliation, I certainly hope we can all agree that being invited to the White House to speak directly to top officials is an incredible honor. Being able to tell Vice President Harris and Secretary Walsh about the work we've done, and continue to do, was incredibly exciting. I can now confirm that the following words have been said within the White House:
Paizo
Pathfinder
Starfinder
Dice
Solidarity
United Paizo Workers
I can also confirm that I acted like an absolute buffoon when the President walked into the room. Now, here's the thing: I have some mixed feelings about President Joe Biden. But when he arrived, I was astonished. He walked in, joked that he was "here to organize this meeting," and shook my hand. I barely managed to stammer out my name and my union before he moved on to Chris Smalls (dressed in, I must say, a truly iconic jacket). Thankfully I managed to recover by the time I sat down, but if there are any photos of me looking a fool behind Chris and& the President, that's why.
Also, the White House is small. I mean, it's an old building, and I'm sure it's crammed to the brim with surveillance equipment and security measures, but still, some of those hallways are tiny. The Oval Office, though, does not disappoint. It was bigger than I expected, but beautiful, and stocked to the brim with photos of the Biden family.
Most of all, the thing I'll take away from today is the connections I formed with the other union organizers who were present. Speaking with them, hearing their stories, and realizing we all deal with the same issues was inspiring, and I'm so excited to keep in touch with them. Something that Jaimie, the organizer from the Baltimore Public Library, said really resonated with me: that their union was about dignity, and making sure that all workers were treated with dignity and respect. That's what it's about for me. Yes, higher wages are good; yes, having a voice is ideal, but at the end of the day, it's about the dignity of work. We're recognizing that all work is important, and that workers deserve their fair share.
After the meeting, we all recorded some videos that the White House will be posting over the next week or so. Be sure to check out the @PaizoWorkers Twitter feed, and we'll be sure to share them and any other press attention we get!
This is an incredible and historic day for the United Paizo Workers, the game industry, and workers everywhere. I'm so thankful for this experience, and so glad I get to do this work for my coworkers.
Alex Speidel
United Paizo Workers